Read in Ned: The Deeper the Snow: 2019 in Review
A Snapshot of 2019
By Elektra Greer
When asked in August of last year why mining was so compelling, Tom Hendricks' incredulous laugh would have been answer enough. Fortunately, he didn't stop there.
For over an hour, Tom let me record his thoughts on mining and the history of Caribou for our library's oral history program, NedSpeaks. And though he likely understood I wasn't as transfixed by the jagged granite held up for adoring inspection as he was, we were kindred spirits nonetheless. "All the mysteries of the universe are contained in this," he told me as he followed the veins of the rock, and I somehow knew just how he felt. Cryptic marginalia has been my vein to the divine.
Looking back…
Tradition dictates this first Read in Ned of the year be one looking to the past and also looking forward. This past year, in large part thanks to Tom's initiative to celebrate the 150th Anniversary of the Caribou Mine, Nederland Community Library was able to more fully embrace its mission of community engagement.  Partnerships that brought in extra resources, a very supportive Board of Trustees and a hard-working Foundation (wear a wig and race in a coffin? sure, why not?), and an exceptional team of library staff and volunteers allowed us to welcome over 60,000 patrons to our library (and 3,000 people accessed our resources online). This 10% increase in traffic from last year was in response to expanded hours, more responsive programs for our patrons, and the mission-critical work of keeping the computers running and the bathrooms clean.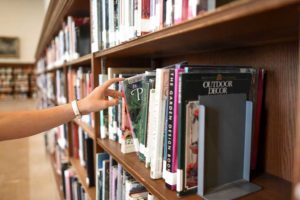 40,000 items borrowed
Our overall circulation of materials (items borrowed) stayed about the same as in previous years, which is no small feat in this era of ever-expanding demands on our attention. The size of our collection (our inventory of materials to share) grew with Youth Services Coordinator Michael Sivcovich taking the lead on adding both a World Languages/International Literature section for children and a  paperback collection of fast-paced readers to keep emerging readers hooked on books. Over 40,000 items (from just our library) were checked out … an average of 9 items per cardholder. This doesn't include items that were borrowed from other libraries.
Circulation of DVDs continued to outpace all other collections with adult and youth DVDs being checked out a combined 11,763 times. Adult fiction books were borrowed 5,654 times this past year and childrens' picture books 5,226. Experience Passes had very robust numbers, and we need your feedback to know which Experience Passes most interest you for 2020. Some of them require a significant  investment of library resources so please fill out our online survey (ranking your top choices) here, or stop by the library.  We want to be good stewards of your money.
And now for what all librarians love most……below is a snapshot of what we, in Ned, were reading, viewing and downloading last year from our library.
Top Adult Fiction titles
Where the Crawdads Sing by Delia Owens
The Island of Sea Women by Lisa See
Wolf Pack by C.J. Box
Name of the Wind by Patrick Rothfuss
The Great Alone by Kristin Hannah (this was last year's #1 title)
Top Adult Non-fiction titles
Wild Bread: Sourdough Reinvented  by Mary Jane Butters
The Art of Gathering by Priya Parker
The Untethered Soul by Michael A Singer
A Grief Observed by C.S. Lewis
Moonshine & Milkweed Medicine by Tammi Hartung
Top Picture Books
Sloths Don't Run by Tori McGee
You Are (Not) Small by Anna Kang
An Awesome Book of Thanks by Dallas Clayton
I Am a Backhoe by Anna Grossnickle Hines
Steam Train, Dream Train by Sherri Duskey Riner
Top Junior Fiction
Harry Potter and the Sorcerer's Stone by JK Rowling (top 2 spots)
Jack Frost:  The End becomes the Beginning  William Joyce
Keeper of the Lost Cities by Shannon Messenger
Diary of a Wimpy Kid: the Last Straw by Jeff Kinney
Top Junior Nonfiction
Minecraft Blockopedia by Alex Wiltshire
Minecraft by Nick Farwell
The Atlas Obscura Explorer's Guide for the World's Most Adventurous Kid by Dylan Thuras
Kawaii Sweet World:  75 Cute Colorful Confections by Rachel Fong
The Wizard's Cookbook by Aurlia Beaupommier
Top Colorado Collection titles
Following in Their Footsteps: Historical Hikes of the Northern Front Range by Kay Turnbaugh
Tales of the Lazy-Z by Don Stilson
60 Hikes within 60 Miles, Denver and Boulder by Kim Lipker
The Lives and Times of the Sugar Loaf Community by Dawn Kummali
The American Birding Association Field Guide to the Birds of Colorado Ted Floyd and Brian Small
Top Adult DVDs
Blackklansman
Star Wars Trilogy
Can You Ever Forgive Me?
A Star is Born
The Mule
Top Junior DVDs
The House with a Clock in its Walls
Hotel Transylvania 3
The LEGO Movie 2
Early Man
Paw Patrol
Top circulating Ebook
 Frankenstein Series
Top Circulating Audio downloadable book
 Becoming by Michelle Obama
Looking Forward…
We can't wait to see what will captivate our community in 2020. In the words of the inimitable Tom Hendricks, "the deeper the snow, the more worthwhile the trip." If that isn't the Nederland mountain area's tagline, I don't know what is.
Please stop by the library beginning the second week of  February to enjoy a photographic exhibit, "Floating Tungsten," in celebration of Tom Hendricks and the community he helped build. Thank you Dan Martin for the title!
---
Elektra Greer is the Director of the Nederland Community Library.