Current Exhibition
Jessica Moon Bernstein-Schiano
Nederland, CO
You can follow Jessica on Instagram:  @jessica.moon.art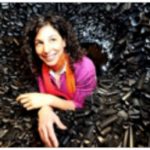 Artist Statement:
Using different artistic mediums to raise awareness about our planet's environmental challenges has become the focus for artist Jessica Moon Bernstein-Schiano.
Climate change, the waste stream, and endangered species are various subjects that influence her work and are expressed in her pieces. Human impact on our planet's environment is one of the most pressing issues of our time and can invoke a sense of powerlessness. Jessica confronts these concerns through her art practice, addressing issues that our society tends to neglect or deny.
Her style is quite diverse, as she has worked with a wide variety of materials including discarded plastic bags, punctured bicycle inner tubes, and melting ice. Most recently, Jessica uses discarded paper materials to create 2D mixed media pieces that show the beauty she observes while adventuring out in the natural world.
Through her work, she hopes to inspire and remind audiences of what we have as well as what we stand to lose if we do not take action.
Bio:
Jessica Moon Bernstein-Schiano received a BA and an MA in from the University of Colorado, Boulder. She studied visual arts at the Instituto Internacional in Madrid, Spain. Following her undergraduate degree, she lived in Mongolia for three years, working for the Peace Corps and the United Nations Biodiversity Project. She has traveled extensively in North and Latin America, Europe, and Asia, has received numerous grants, and was an artist-in-residence at Anderson Ranch Art Center in Snowmass, CO. Her exhibitions include Artists' Footprints at Redline for the Biennial of the Americas in Denver; Detritus, which showed at the Houston Art League, TX, as well as the Dairy Center for the Arts in Boulder and Ourrubberous, at the Boulder Museum of Contemporary Art.
Art Exhibit Committee
Roberta Brown-Jones
Marlyn Cheshes
Theresa Redmon
Exhibitor Selection
NCL Art Exhibit Policy
NCL Art Exhibit Procedures
NCL Art Exhibit Application