Current Exhibition
Judy Tuell Fisher | Mountain Impressions
Ward, CO
303-459- 0321       fishntuell@gmail.com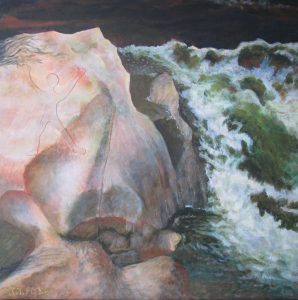 Granite, mountains, trees, bark, dried grass, sand, water, shells, driftwood, living creatures and wild weather—all inspirations for my art. My Pacific Northwest upbringing and my current Colorado mountain living fuel my fires of creation.
My training in fine art was traditional in subject matter and technique. I studied at the University of Washington, Rhode Island College under Enrico Pinardi and at the University of British Columbia, focusing on drawing, oil painting, sculpture and printmaking. I spent many years doing freelance renderings in pencil and pen and ink, plus, I owned a small marketing business in Boulder that brought me into the realm of computer graphics.
Now retired, I am back to my love of painting and sculpture. Acrylic painting and wood carving are my current mediums and fulfill my interest in two- and three-dimensional art.
I believe we store our memories as abstract visions and emotions. Light, reflection, shadow, color, movement and shape are all parts of the puzzle, but it is our emotions that cause us to remember. Memories are, therefore, often quite different from the actual time or place we experienced.
Humans should be an integral part of nature and meld with the environment in a natural and unobtrusive way. The figures joined with the landscape in my Granite Abstract Series attempt to demonstrate that our union with nature and our presence in it should be an equal partnership.
Thank you for viewing my work.
 Current Themes: Granite Abstracts, Mountain Moments, I Dreamed the Sea, Northwest Spirit Carvings
Art Exhibit Committee
Roberta Brown-Jones
Marlyn Cheshes
Theresa Redmon
Exhibitor Selection
NCL Art Exhibit Policy
NCL Art Exhibit Procedures
NCL Art Exhibit Application