Civil Rights & Voting Rights

SMITHSONIAN INSTITUTION Traveling Exhibition Service +
In this important election year, and in honor of our traveling exhibitions American Democracy: A Great Leap of Faith and Voices and Votes: Democracy in America, SITES and Smithsonian Affiliations are highlighting a diverse array of the Smithsonian's digital resources that engage audiences around voting, elections, civic engagement, and citizenship.
What is the significance of the civil rights movement? How have voting rights changed over time?
Here are links to websites and online educational materials that answer the questions: What is the significance of the civil rights movement? How have voting rights changed over time?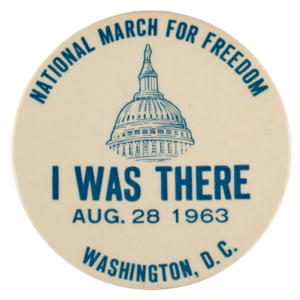 The Historical Legacy of the March on Washington
A visual resource from the National Museum of African American History and Culture about the famed 1963 march, with historical images, footage and interpretation of its legacy in today's society.
This website includes activities to do at home, and functions as a launching point for information about the 1963 March on Washington in the collections of the museum.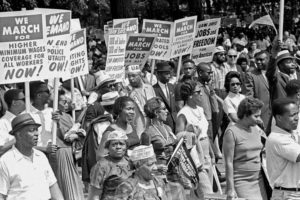 The Civil Rights History Project
As an 'inside look' at the civil rights movement, the Civil Rights Project has captured the personal histories and testimonials of unsung activists of the 1950s and 1960s. This collection makes the stories from many of the previously unknown individuals who made valuable contributions to the civil rights movement available to the public.
These members of the freedom movement were committed to eliminating racial segregation and inequality in the United States, sometimes at a great cost to themselves, their families, and their community.
Martin Luther King Jr.: The Later Years (1965 – 1968)
This collection on Smithsonian's Learning Lab highlights documents, images, objects, and media from the National Museum of African American History and Culture and other Smithsonian units that help to tell the story of Martin Luther King Jr.'s final years, his assassination, and his enduring legacy. This collection is designed for students in grades 9 to 12 to complete independently, and students in grades 4 to 8 to complete with the guidance of an educator.
Voting Rights in American History
Throughout American history, voting rights have expanded, contracted, and expanded again as Americans dealt with shifting issues of politics, race, class, and wealth. This collection on the Smithsonian's Learning Lab includes objects and resources from the National Museum of American History related to the founding of the American system of democracy and those who have and have not been eligible to vote at various points of this nation's history.
History Explorer: Courtland Cox on This Generation's Challenge
In this podcast, Freedom Summer veteran Courtland Cox discusses his work in the civil rights movement and the relationship between the work of Freedom Summer and voter registration requirements, and emphasizes that the challenge of this generation of young people will be the fight for equal access to quality education.
This episode includes a downloadable teacher's guide.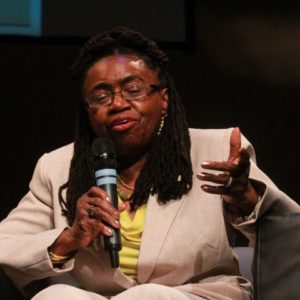 History Explorer: Fighting For My Rights – Zoharah Simmons
In this podcast episode, Joy Lyman, a former National Museum of the American History Freedom School intern, hosts this special episode of History Explorer on civil rights activist where she presents the story of Zoharah Simmons, about her experiences in the 1964 Freedom Summer project.
The resource includes a student worksheet and teacher guide.
Oh Freedom! Teaching Art and the Civil Rights Movement
An interdisciplinary resource for K-12 teachers and students to discover the history, influence and Legacy of the civil rights movement through art from the collections of the Smithsonian American Art Museum and National Museum of African American History and Culture.
The Struggle for Justice
This virtual image gallery and classroom resource related to the National Portrait Gallery exhibition The Struggle for Justice is a good starting point for learning about the specific individuals who were active in the fight for civil rights over the past two and a half centuries.
The individuals represented here are just a few of the countless citizens who have worked to advance the status of women; racial and ethnic minorities; LGBTQ+ individuals; and persons with physical and intellectual differences.
Voices and Votes Conversation Starter: A Vote, A Voice
This 7-minute video encourages Americans to think about the role that they can play in democracy. The Smithsonian's Museum on Main Street program interviewed people across the country to hear their thoughts on voting and community participation. Interviewees shared with us why they vote, what the right to vote means to them, and talked about issues that motivate them. What issues and debates in your community inspire participation and engagement?
Voices and Votes Conversation Starter: Diversity & Democracy
This 6-minute video is designed to help frame thoughts around voting rights through excerpts of multiple interviews conducted on the topic by Smithsonian's Museum on Main Street and poses questions such as:
Have national symbols or myths in American history helped shape an identity for some, but alienated others in this diverse country? How have these questions impacted your community? How do we bring healing and conversation?
 

by Appointment
Monday-Saturday, 10am-2pm
Thursdays, 4-7pm
_________________________________

Curbside Pickup  •  Home Delivery • 303-258-1101

FREE COVID-19 TESTING IN NEDERLAND +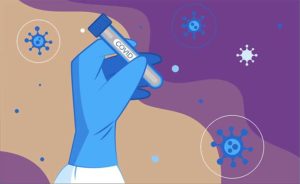 Starting  Thursday 10/29/2020 from 4:30-6:30pm
EVERY THURSDAY except holidays through the end of the year from 4:30-6:30pm at Nederland Community Center. 
FREE!
Testing will be in the Gymnasium.
Come to the main east-side entrance and follow signs.
If you are symptomatic, PLEASE STAY IN YOUR CAR. Call the front desk, 303.258.9721, and we will send someone out to you!
More details to come.
Thank you to Boulder County Public Health, Boulder Community Health, and Dennis Whalen of Peak to Peak Housing and Human Services Alliance for their efforts to make this happen!
OUR COVID-19 RESPONSE +
Our Response
We closely monitor Boulder County public health guidelines and mandates. We currently have an operational checklist that ensures we are in compliance with distancing, face coverings, sanitizing, and monitoring employee health. 
With these guidelines in place, we are continuing our Monday-Saturday, 10AM-2PM, appointment-only library services and non-contact curbside pickup. Send us an email or call us for more information. 
Our courier system that allows us to share items from other libraries has resumed operation.
More Information
Call Us 303-258-1101
Email Us
PICKUP SERVICE +
Interested in being able to get library materials through contactless curbside pick-up? Easy!
Login to your account  Never done this before?  Give us a call and we will walk you through it!
Place a hold on items that you want.
1) Be sure the items say they are Nederland items.
2) If you need them within 24 hours, be sure they say they are on the shelf.
Our staff prepares items to be picked up before we open at 10 a.m., so if you have an urgent need after 10 a.m. to pick something up, please call us so we can get them ready. We disinfect all items when they are returned to us and before they are picked up, and extra precautions take extra time. Please be patient with us and recognize that staff and patron safety is our top priority.
Call us – 303-258-1101 – when you are at the library and we will bring your items out and place them on the pick-up table for you. Please remember curbside pick-up is only available 10 a.m.- 2 p.m., Monday-Saturday.
If possible, please pick up your items from the back of the library (3rd street) next to the materials drop-off bin.
When you're finished, you can return your items to the bin.
Enjoy!
HOMESCHOOL SUPPORT +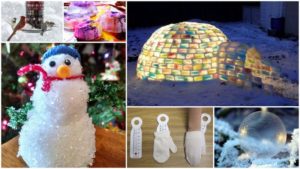 STEAM Educational Kits*
Curated books and learning materials
Librarian visits (COVID-19 safety protocols must be in place)
Online Databases
Email us for more information
*STEAM Educational Kits create portable learning experiences around science, technology, engineering, arts & design, and math through hands-on experiments and manipulatives. Each kit provides a unique STEAM resource accompanied by relevant and engaging books, DVDs, and guides.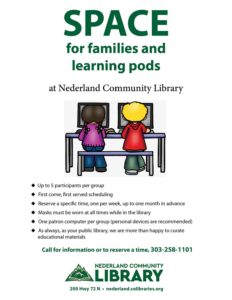 YOUR
DIGITAL LIBRARY
Stream a Movie
With

Kanopy

you can stream up to 10 free films a month with your library card
World Cinema
Indie Dramas
Top Documentaries
Great Courses
Remote Research

Colorado Historic Newspapers Collection – More than 1.9 million digitized pages, representing more than 475 individual newspaper titles published in Colorado from 1859 to 2019.

Medline Plus – Online health information reserch for patients and their families and friends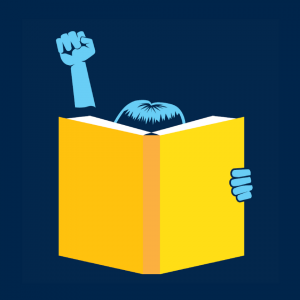 NAVIGATING INFORMATION & MISINFORMATION
Snopes –

a "well-regarded reference for sorting out myths and rumors" on the Internet.

PolitiFact – a fact-checking website that rates the accuracy of claims by elected officials and others on its Truth-O-Meter.
ProPublica – an independent, non-profit newsroom that produces investigative journalism in the public interest.
FactCheck – a project of The Annenberg Public Policy Center.
NedSpeaks | Oral Histories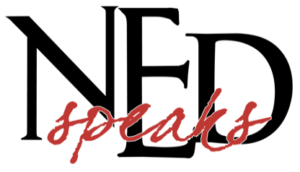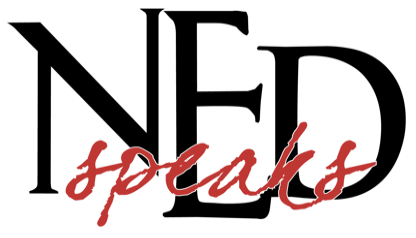 Reflecting, Recording, and Preserving History
Listen & Read More
Pandemic Resiliency
We're looking for your stories about surviving the COVID-19 pandemic. Videos, written stories, poems, oral histories, photos, or…  Email or call Charlie Westerink at 303-258-1101 for more information.
Songs from the Stacks

A new series featuring local musicians
Want to perform?
Contact Charlie, 303-258-1101 or email

Wherever we live, however we socially distance, we all are responsible for our democracy, and democracy starts with information and…
#NedThinks


A deep dive into current events through the lens of our mountain youth
New Books at Nederland Community Library
STORYTIME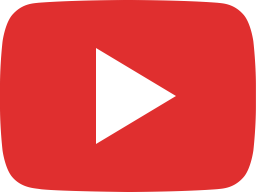 Leaves -- David Esra Stein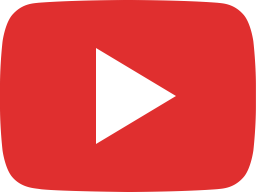 Wayside by the Fireside -- Chapter 5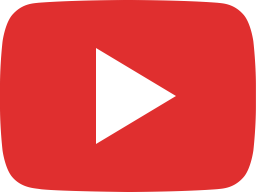 Wayside by the Fireside, Chapter 4

NCL adapts to Coronavirus:
SONGS FROM THE STACKS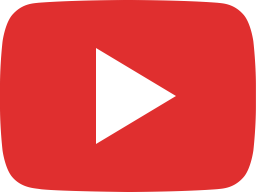 Dan Jones -- Helen's Song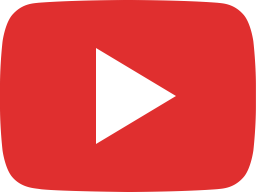 Dan Jones -- Emily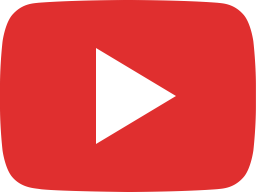 Dan Jones -- Scotts Valley