Artist Wolfy Wolf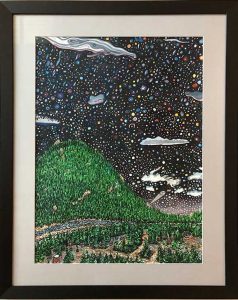 Artist Statement:

I have been creating watercolor paintings for over thirty-eight years. My dry brush and saturation techniques give my paintings bright colors that are often mistaken for oil or acrylic. From my foundations in landscapes I have expanded into dreamscapes and abstractions.
Painting, Avant-Garde History, Animation, Photography, and Story-Telling were the bulk of my studies at San Francisco State University with an emphasis on Painting and Animation. My artistic influences include Frida Kahlo and Alex Grey to mention just a few.
Since the fall of 2015, Nederland, Colorado has been my home. Upon arriving I have had regular showings at Art at The Center located in Nederland.  During that time, I have been awarded second place in the People's Choice Awards on at least three occasions. Additionally, I have graced the cover of the Mountain Pages (Winter 2017-2018) and provided the artwork in 2018 and 2019 for the Frozen Dead Guy Days Festival Map, which can be found in the festival guide book and online.
In 2020 we started our online art store that sells not just originals, but prints in multiple media, greeting cards, puzzles and calendars. See more at www.wolfywolffineart.com
This year we have our first solo show thanks to the Nederland Library.
I hope you enjoy my work!