Artist Judy Tuell Fisher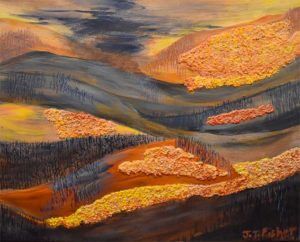 From Sea to Summit
JUDY TUELL FISHER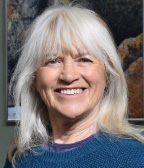 Growing up in the Pacific Northwest and my current Colorado mountain living are the inspiration for all my art, whether it is painting, wood carving or sculpture. It's all about color, texture and shape.
My training in fine art was traditional in subject matter and technique.  I studied at Univ. of Washington, earned my degree from Rhode Island College studying under Enrico Pinardi and went on to study printmaking at the Univ. of British Columbia. For many years I pursued a career which focused on marketing and computer graphics.  For the last 15 years I have been able to concentrate on my love of painting, wood carving and sculpture.
I return to the Northwest every year for a period of 2 or more months to stay in touch with my roots. The ocean and all the surrounding area continue to offer a wonderful variety of beach, wildlife, inland and ocean waters that keep me coming back.
My current environment, high in the Front Range foothills, offers a contrast that is equally compelling.  The ever-changing colors, amazing granite formations, abundance of wildlife and constant terrain challenges are always here to inspire me.
My thanks to the Nederland Library for hosting this show. If you would like more information regarding this exhibit, please inquire at the front desk.  Thank you.