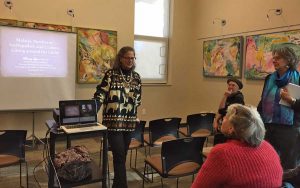 Community Room Information
Capacity: 24 people, 4 work tables available.

Small kitchen area.

Refreshments allowed in accordance with the Library's Code of Conduct.

32-inch Smart TV

with HDMI connectivity. Groups must provide their own laptop computer or electronic devices and are advised to bring their own HDMI and adapters to connect to the meeting room equipment. All technical support is the responsibility of the group. If assistance is needed to connect to the audiovisual equipment provided, a basic training session may be scheduled with a library staff member prior to the meeting.
For information on after-hours availability of the room, please email us.
If you are interested in

same day booking

, please call us at 303-258-1101.
For more information, see our Community Room and Facility Usage Policy.
_________________________________________________
Booking the Library's Community Room
1 Check the availability of your desired day and time on the calendar below.
2  Fill out the application.   COMMUNITY ROOM BOOKING REQUEST
If your meeting room request isn't confirmed within 48 hours,
please call 303-258-1101.
____________________________________________________________