Nederland Community Library – Toy Lending!
New Toy Library is available in themed backpacks
By Michael Sivcovich and Susan Elling 
Is there any better testament to our library being a thriving community library than when we partner with you, our patrons, to bring  your ideas to life? This month we are launching our toy lending library and it would not have happened without Susan Elling, a pediatric speech-language pathologist at Boulder Community Health, approaching us to make her vision a reality.
If parenting teaches anything, it's that toys get uninteresting quickly and having options that you can try out and revisit is a great way to keep little minds working. Susan, whose work has included working and playing with all ages, infants to the elderly, in clinic and hospital settings, believes in community-based toy lending libraries to provide  ongoing opportunities for play equally to all. Susan has helped us curate a stimulating and fun toy lending library.
In her own words, Susan shares, "from my work as a pediatric speech-language therapist, I know first-hand the benefits of toy variety and quality to tap into a child's natural curiosity. Toy libraries have experienced a recent surge in communities across the U.S. (and Nederland will be the first in Boulder County) by promoting:
sustainability of borrowing over continually buying toys, reducing number of toys in the landfill
cost-savings for families
inclusive and equal opportunity for all children ages 1-5 with different abilities to experience the joy and power of play
selection of toys and games by those with expertise in child development, specifically for their ability to build language, cognitive, social, and emotional growth
The USA Toy Library Association reports there are about 400 toy lending libraries in the U.S.  The oldest and largest is the Los Angeles County Toy Loan Program, started in 1935 during the Great Depression and now offering 45,000 toys and games for checkout through the branch library system.  Recent articles in the Washington Post and American Academy of Pediatrics highlight the importance of play as key to raising healthy children." You can learn more about play and the role it plays in the development of children through the parenting section of our library. Titles such as The Importance of Being Little, by Erika Christakis and Lisa Murphy on Play: The Foundation of Children's Learning, by Lisa Murphy, offer some insight into why and how play is essential to development. You can find other ideas to encourage and expand play with books such as The Ultimate Toddler Activity Guide, by Autumn McKay.
As with all things, we love to hear your feedback and suggestions. The toy lending library will be available in themed-backpacks (similar to our Experience Passes); reservable through our catalog; and will include suggestions for extended play with the included toys. If you have some toys around your home in good condition, consider donating them to us to include in this initiative (nothing that requires a screen or password please).
Not only a great resource, a toy lending library is a wonderful addition to our growing educational materials at NCL. And remember, you're never too young or old to engage your imagination. What was your favourite toy as a child? What is it now? Any similarities?
---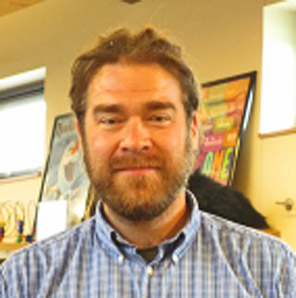 Michael Sivcovich is the Youth Services Coordinator at the Nederland Community Library.