Read in Ned: Revisiting the Switzerland Trail
Upcoming opportunities for history lovers
by Tom Lambrecht
Let me confess that my first visit to the Nederland Community Library was not as an employee or even a card-toting patron — rather, it was to attend an event that no fan of railroads and local history could miss. Local historian Michael O'Neill spoke about his explorations of an abandoned rail line which began life as the Greeley, Salt Lake and Pacific Railway (GSL&P). When it was active, it was crucial to our local mining economy and was proudly depicted on postcards and tacky souvenirs clutched in the hands of the many tourists who rode it. It was marketed to the latter group  as the Switzerland Trail of America and parts of that route are still popular with hikers, mountain bikers and four-wheelers.

Michael O'Neill on Sunday, July 14, 3 pm
Michael's presentation was years ago and we're happy that he will return to the NCL Community Room on Sunday, July 14, at 3 PM to update us on his explorations. Michael has lived and ranged over the West and now lives in Larimer County, but his interest in the Switzerland Trail hasn't diminished and he still makes frequent trips up to our backyard to continue his research and ramblings. He'll present photos and maps and talk about hiking the accessible portions of the Trail and historical sights one might see.
The GSL&P was one of many ambitious rail lines conceived by planners who thought they'd overcome the steep mountain grades and brutal weather of the Colorado mountains. These factors took a heavy toll on the equipment and tracks, driving up operating expenses to unsustainable levels and resulting in abandoned lines and changes of ownership. By 1883, the GSL&P  originated in Boulder, came up Boulder Canyon and then snaked its way up Four Mile Canyon through the (still) small mountain communities around Salina. Over time, the main line and feeder lines from the mines were expanded as far as Ward, but flooding that washed out the tracks and defunct mines resulted in name changes as the line changed hands. It finished its existence as the Denver Boulder and Western and was defunct by 1919.
Silvia Pettem on Friday, August 9, 7 pm
Another great opportunity for history lovers will come on Friday, August 9, when Sylvia Pettem will appear at the Nederland Mining Museum at 7 PM. Her appearance will kick off the celebration of the Caribou Mine's 150th anniversary, along with burros, rock drilling, tours and speakers. Pettem is the doyenne of Boulder area history and has authored over a dozen books on our area's mountain heritage as well as a vast number of research publications and newspaper columns (her paper "Tracking Boulder, Colorado's Railroads" is one of my go-to resources for local rail history).
Please join us …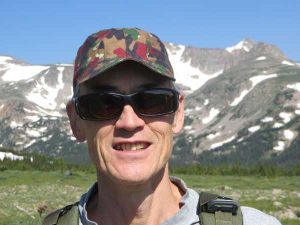 Tom Lambrecht is the Assistant Director of the Nederland Community Library.