Online Classes & Programs
Please note: Communication regarding your registration will come from a Nederland Library Account that reads "LibCal" and it may end up in a Spam folder.  Be sure to check all your folders for library communications!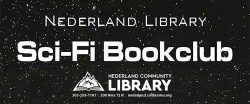 Tuesday, June 14 -This month's book is Vicious by V.E. Schwab. Also a giveaway of tickets to Comicon Denver.