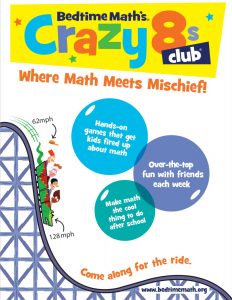 Crazy 8s is nothing like your usual math club!
This super fun after school program is every Tuesday for 3rd graders thru 5th grade, 3:30-5pm,
and Wednesdays for K-2nd graders, 3:30-5pm. 
Students will be shuttled from the Elementary School to the Library for the program.
Pick up is at 5pm at the Nederland Community Library.
The always fun Crazy 8s club uses hands-on activities and materials to introduce and practice math concepts taught from kindergarten through 5th grade.
Due to demand for the program and limited staffing, we accept registrations on a first come, first served basis.
Sessions run for 8 weeks, starting on Tuesday, September 13, for 3-5 and Wednesday, September 14, for K-2.
Snack Provided  •  Free
Crazy 8s at Nederland Community Library requires Emergency Contact Information and a Liability Waiver. We need a completed copy before children may attend programs.
To download and print the forms, click here:  EMERGENCY CONTACT FORM     LIABILITY WAIVER