Signs of Spring—New & Old
Spring: the season of new beginnings
Pull your mask down for a minute and take a deep breath of spring. It's here!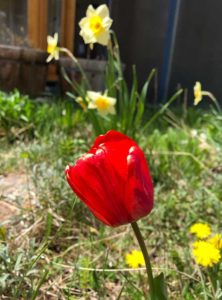 Ephemeral pasque flowers are peeking out from the pine duff. Daffodils at my house are blooming, as is the lone tulip that wasn't eaten. Baby chipmunks are darting from the woodpile to the garden and back, their paths interrupted by upended earth mounds, evidence of voles and gophers tunneling under the yard. I don't know if was the chipmunks, the rabbits, or the voles who ate all the tulip blooms, but I hope whoever it was enjoyed their tasty treat–and I wish them a hasty retreat…
A hummingbird divebombed me yesterday. Years ago I gave up on my hummingbird feeders. I was tired of the constant trips to the store for sugar. Now I plant red flowers and get to watch almost as many hummingbirds as before. We get a few different kinds of hummers here at 8,200 feet, and the library has a few helpful resources if you're interested in identifying them.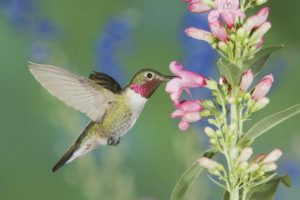 Another sign of the new season that is unique to this pandemic spring of 2020 is the now-ubiquitous face mask. It's a sad comment on our changing world, but it's also encouraging to see them hanging from rear view windows and decorating the faces of friends and neighbors in town and on the trails. To mangle a quote from the post office: neither snow nor rain nor gloom of pandemic stays the swift slide from winter to spring here in the mountains.
Just a few of the spring-y resources available at NCL:
Pollinator friendly gardening : gardening for bees, butterflies, and other pollinators
By Rhonda Fleming Hayes
A unique sourcebook to share the ways that anyone can make a yard a more friendly place for pollinators, including hummingbirds and butterflies.  (hardcopy)
Wings of Life
Directed by acclaimed filmmaker Louie Schwartzberg, 'Wings of Life' utilizes riveting high-speed, closer-than-close filmmaking techniques to showcase in spectacular detail these unsung heroes of our planet.  (DVD)
Hummingbirds and butterflies
By Bill Thompson
This second collaboration between the Peterson Field Guide series and Bird Watcher's Digest includes tips on how to attract hummingbirds and butterflies to backyards–and how to identify them once they've arrived.   (hard copy)
Who Loves Flowers?
By Leona Locke
As spring comes into full bloom, it's a good time to read this simple Unite for Literacy book about flowers and the people who love them. What's your favorite?  (ebook)