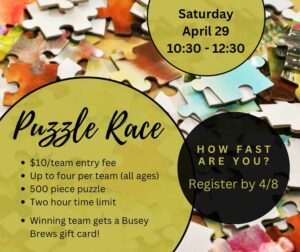 Saturday, April 29
10:30-12:30
All Ages ($10/team)
REGISTER by APRIL 8
Do you love puzzles?  Are you ready to race against the clock?
Grab a group to compete against other teams to see who can knock out a 500 piece puzzle in two hours.
Individuals, we can pool you with others looking for a team (registration is the same)!
RULES:
Teams of up to four individuals (all ages)
All teams will have the same puzzle.  Puzzles will remain face down until the race start.
Winners are first team finished, or the team with the least number of pieces left at the end of two hours.
In the event of a tie, tied teams will be given 15 additional minutes
NOTE:
When registering a team, you can reserve all four spots just make sure you enter the proper number where it says "number of people attending."
If you'd like to register as an individual looking for a team, that's fine too.
We will pool individuals to form teams if needed.
–