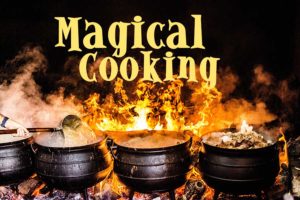 Do you feel like you're cooking all the time?
Maybe it's time for some

intoxicating potions

and

bewitching recipes.
Cookbooks are really popular right now, and this is a great time to get your hunkered-down kids cooking. Although if you don't have kids around, these cookbooks still sound like delicious fun.
Books are linked to the Nederland Community Library catalog, and are available in hard copies or as ebooks.
Cooking a la Harry Potter
A couple of books with really, really long titles
The Wizard's Cookbook: magical recipes inspired by Harry Potter, Merlin, the Wizard of Oz, and more, by Aurl'ia Beaupommier
A spellbinding cookbook that pays tribute to all sorcerers, fairies, elves, mages, and magicians with bewitching recipes that are sure to teleport you to another world
(hard copy)
The Unofficial Harry Potter Cookbook: From Cauldron Cakes to Knickerbocker Glory; More Than 150 Magical Recipes for Muggles and Wizards, by Dinah Bucholz
Anyone up for a Treacle Tart?
(ebook)
More for the kid in all of us
Green Eggs and Ham Cookbook: recipes inspired by Dr. Seuss!, by Georgeanne Brennan
Need we say more?
(hard copy)
The Complete Cookbook for Young Chefs, by America's Test Kitchen Kids
Want to bake the most-awesome-ever cupcakes? Or surprise your family with breakfast tacos on Sunday morning? Recipes were thoroughly tested by more than 750 kids to get them just right for cooks of all skill levels
(ebook)
The Ultimate Kids Baking Book: 60 easy and fun dessert recipes for every holiday, birthday, milestone and more, by Tiffany Dahle
Each skill you learn will make you a next-level baker until you become the new head baker at home
(hard copy)
A cookbook for everyone because it's all about

COOKIES!
Best Ever Cookie Recipes Cookbook: Cookies 'round the Calendar…Yummy, Easy-to-Make Favorites for All Occasions!, by Gooseberry Patch
Way too many ideas in this book—Need to go out for a walk first!
(ebook)
---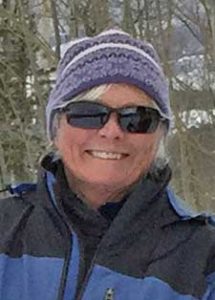 Kay Turnbaugh is the webmaster for Nederland Community Library and a local author.