Learn More about Artificial Intelligence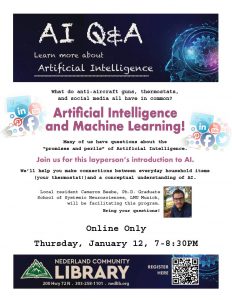 What do anti-aircraft guns, thermostats, and social media all have in common?
Many of us have questions about the "promises and perils" of Artificial Intelligence.
Join us for this layperson's introduction to AI.
We'll help you make connections between everyday household items (your thermostat!)and a conceptual understanding of AI.
Local resident Cameron Beebe, Ph.D. Graduate School of Systemic Neurosciences, LMU Munich, will be facilitating this program.
Bring your questions!
Online Only
Thursday, January 12, 7-8:30PM