Homestead Workshop: Soap-Making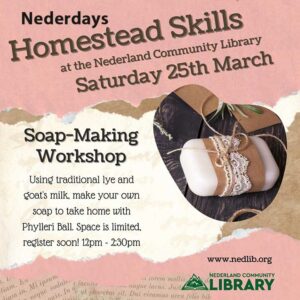 Read More and  Sign Up Below

Soap-Making Workshop
Saturday, March 25
12-2:30 pm
Use lye and goat's milk to make your own soap to take home and use! Workshop led by Phylleri Ball. Space is limited, sign up soon!
*We will provide goggles and gloves for participants, but please bring your own apron or wear old clothes.
**This workshop is for adults, young adults, and teens. Not suitable for children.
*** There is a $10 materials fee. Payments can be made online or in-person. Contact the Library for additional assistance!