Since books are my passion and profession, I love to shelve and alphabetize them.
Read in Ned | September 2, 2017
By Cathy Grace
Grooming the shelves at Nederland Community Library gives me the opportunity to discover (and re-discover) books for my own enjoyment and to recommend to patrons. Let me share a few of them with you.
The Wives of Los Alamos by TaraShea Nesbit was one of these. Written in an unusual style without an individual narrator, it offers multiple voices to portray the range of experience these women had in the Forties. They followed their scientist husbands to the high security laboratories of Los Alamos, then lived in glorified camping conditions as their husbands worked in absolute secrecy (not even allowed to confide in their wives) to develop the atomic bomb.
The size of Randall Wallace's The Touch attracted my attention initially. Just like my colleague who wrote last week's column, I'm a sucker for smaller, more easily-handled books. This turned out to be a short and affecting read centered around a gifted young surgeon who experiences a crisis of confidence in his personal life which makes him abandon his finely-honed surgical skills.
An old book-friend which I had initially discovered on our shelves a couple of years ago: The Scrapbook of Frankie Pratt by Caroline Preston is a novel told entirely through collages of photos, messages, and memorabilia. Not everyone's cup of tea, perhaps, but I found it charming — again!
Mrs. Queen Takes the Train came out several years ago. I remember wanting to read it then, but somehow it slipped out of my sight and I'm so glad I happened upon it on our shelves! Author William Kuhn paints a charming fictional picture of the current Queen as she, feeling a bit low, slips out of the palace to buy some cheese for her horse. Virtually unrecognized, as she's wearing her stable girl's dark hoodie with a skull and crossbones on the back, she has an unplanned walkabout which gives her a fresh perspective and brings new life to those around her.
In nonfiction, my eye was drawn recently to 4 Ingredients One Pot, One Bowl: Rediscover the Wonders of Simple, Home-Cooked Meals by Kim McCosker. This has some terrific-looking recipes, each with only four ingredients and simple instructions, so you're not taking a lot of time away from your reading to whip up some delicious food.
The Astronaut Wives Club by Lily Koppel gives a novel view of the early years of the US space program, focusing on the "Mercury Seven" astronauts through the perspective of their wives who bonded during their shared experience in the spotlight.
Journalist Jim Defede's book debut, The Day the World Came to Town tells of 9/11 in Gander, Newfoundland, where 38 planes were forced to land when U.S. airspace was closed down. By opening its doors and its hearts to stranded passengers and flight crews, this community of 9,000 "affirmed the basic goodness of mankind when it was easy to doubt such humanity still existed."
Former President George W Bush has a new book called Portraits of Courage: A Commander in Chief's Tribute to America's Warriors. Bush took up painting five years ago and has quite a gift for it. Each portrait of a veteran is paired with a brief word-picture written by Bush. Whatever your feelings about him, you may be impressed by this late-blooming painter and his appreciation of some of those who served in our armed forces during his Presidency.
Next time you're in the library, try roaming the stacks and letting something jump out at you: the serendipity can be very rewarding!
---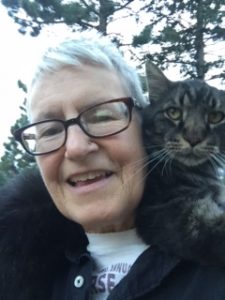 Cathy Grace is a Library Assistant at the Nederland Community Library.