Back by Popular Demand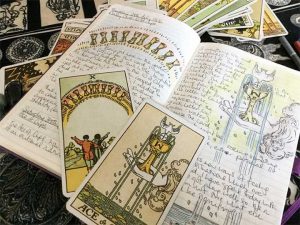 Go inward this season using the Tarot to explore, make manifest and find peace with your inner journey.
Basics of the Tarot, including the structure of the deck, meaning of the cards and popular spreads will be shared along with time for quiet contemplation and creative journaling (journals and art supplies will be supplied).
This is a two-session program, please be sure you can attend both sessions.

Sunday, January 8, 3-5PM and
Sunday, January 22, 3-5PM
Materials fee of $10; registration and pre-payment required.
Pay online or in-person at the library.
Feel free to bring your own Tarot deck, but it is not necessary to have one. This program fills up quickly, so please be mindful of your scheduling when you register. Scholarships available.