Why should I participate in the Summer Reading 

Program?
Kids: The Summer Reading Program is a great way to stay active, explore different worlds through books, and hang out with your friends! The Nederland Community Library has a great lineup of performers, workshops, and events throughout the summer that are all free to attend! We have programs for preschool, elementary, middle and high school learners, so you are sure to find something you like.
Parents: Having your kid (s) participate in the Summer Reading Program (SRP) is a great way to ensure they are engaging their minds in meaningful ways so they can go back to school in the fall refreshed, rejuvenated and ready for another year. The main goal for the SRP is to prevent a phenomena called  "summer slide" (also referred to as "summer slump"), which happens when a child enters the next grade at lower learning levels than when they left their previous grade. Over time, this can have a huge effect on their overall performance in reading, writing and math. Because we all want our kids to succeed, the Nederland Community Library has designed a great summer program for your child to reach their fullest learning potential. We will have educational performers and workshops, as well as prizes for working on and completing the reading BINGO cards. See calendar below for complete list of performers and events.
What is the reading BINGO card?
The reading BINGO card offers prizes to participants who complete one and three lines, as well as their whole card. Children who attend the Nederland Elementary School will receive a packet containing a letter to parents explaining the Summer Reading Program and reading BINGO card. For those who do not attend either school, copies of the packets will be provided at the front desk of the Nederland Community Library.
What are the prizes?
This year, we have prizes for both elementary students as well as middle and high school students. Our "pick-a-prize" offers participants a variety of key chains, pencil holders, stencil books, earbuds and more! See links below for more details:
Elementary BINGO 2017                                              Middle/High BINGO 2017*
What events are offered?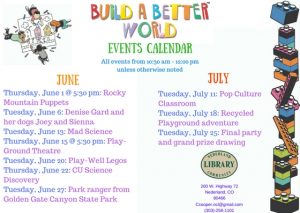 For more information about any event, please refer to our Library Calendar.
*Middle/High students have the option to use the library's 3D printer as a part of their prize. It should be noted, however, that all designs must adhere to the library's 3D printing policy (found here) and be approved by a staff member before printing.
If you have any further questions, please don't hesitate to e-mail Celine at ccooper.ncl@gmail.com or call at (303)-258-1101.