Special Event Screening – The Public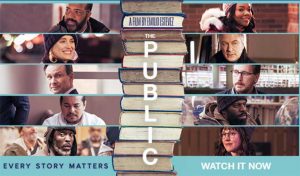 Support your library with a special event screening of "The Public," written, directed and starring Emilio Estevez, along with an ensemble cast including Alec Baldwin, Christian Slater and Gabrielle Union.
This thought-provoking (and sometimes funny!) movie tackles issues of homelessness, mental health and social services in the context of public librarianship.  You may never see your local librarians in the same way again!
This event is open to all.  PG-13. Suggested donation of $5.
Backdoor Theatre – Thursday, September 19th at 7PM