Some of my favorite books set in Colorado
Savoring the sense of place
Read in Ned | December 29, 2017
By Cathy Grace
I enjoy savoring the sense of place in what I read — as a Colorado native, I particularly love it when that place is Colorado. Here are some of my favorite books set in our state. All are available at Nederland Community Library or through our AspenCat consortium.
One of my most cherished childhood memories is spending summers west of Rollinsville, in the Tolland valley. Even now, when picking up the book Little Britches by Ralph Moody, I'm transported right back to that cabin and hear the hiss of the Coleman lantern as my mom read aloud, "I never really knew Father very well till we moved to the ranch on the Fort Logan-Morrison road, not far from Denver. That was just after my eighth birthday – right at the end of 1906." Ralph learns to ride horses and drive the mowing machine (breaking nine toes in the process), makes friends with cowboys and Indians, chronicles the irrigation water fights, learns some very difficult and formative character lessons, and sets down memories of family gatherings where money was tight and creativity and love flowed. Even after reading of all the hardships the Moody family experienced, Ralph's tales (which continue for several books after Little Britches) planted a seed in me of wanting to live on a ranch. That seed finally sprouted 50-some years later, and I do live on a ranch now!
My Colorado roots run deep, and there are a couple of books which celebrate some of my relatives. The Magnificent Mountain Women by Janet Robertson is a wonderful survey of strong, adventurous women who have made an impact on the Rockies. My grandmother Harriet Vaille Bouck and her sister Agnes Vaille were two of them; check out their stories in Chapter Two. Harriet was one of the far-sighted mountain activists who campaigned to create Rocky Mountain National Park. She organized a pack trip for her cousin Oliver Toll to accompany several Arapaho Indians throughout the area so he could chronicle the Arapahos' names for the mountains, lakes, and other natural features; it was thought that having them named would increase the chances of attaining national park status. Cousin Oliver wrote up his account of the trip in a short book called Arapaho Names and Trails; I remember him working on the manuscript in Tolland over the summer of 1962. Harriet's younger sister Agnes made the first winter ascent of the East Face of Longs Peak in 1925. She died in the attempt, and the stone hut at the Keyhole on Longs was built by her father in her memory.
A 2017 novel called Midnight at the Bright Ideas Bookstore is set in Denver at a LoDo bookstore, which is a thinly-disguised Tattered Cover. Author Matt Sullivan worked at that bookstore for several years and he brings his insider knowledge to this crackling good mystery, which is also a paean to books and bookstores and the characters who frequent them. I've worked at Tattered Cover for 30 years, so it's especially fun to find the store portrayed, as well as Colfax Avenue and other Denver locations and landmarks; love this book!
Even closer to home is Don't Delay Joy: the Story of the Carousel of Happiness by Janette Keene Taylor. The book captures the magic of Nederland's own gem, as it paints a picture of a young Marine gunner in Vietnam who, in the midst of war, dreamt of a carousel in a mountain meadow. Scott Harrison came home, settled in Nederland and started carving … and carving and carving and carving. Three decades later, we have this one-of-a-kind center of happiness, creativity and joyous collaboration – right in our town. The carousel is the ultimate be-here-now experience, and Janette's book enhances the carousel experience with lots of photos, drawings, stories, and peeks behind the scenes. Talk about a sense of place!
---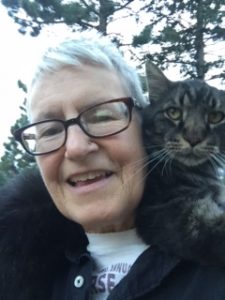 Cathy Grace is a Library Assistant at the Nederland Community Library.