Read in Ned: Recuperating with Books
Back in action, working at the library again, surrounded by books, movies, magazines, and people who love them
Read in Ned | July 7, 2017
By Cathy Grace
My advice to you (speaking from experience) is: don't break your hip … but if you do, be sure to have a Nederland Community Library card, and use it to the fullest.
I fell on the ice at the end of January and fractured the neck of my femur. Once I was off pain meds and able to concentrate again, I got back to reading …and reading and reading … oh, and reading some more, with some DVD-viewing thrown into the mix as well.
I love to follow the trails where my curiosity and interests take me, and it was wonderful to have the time to do that during my recovery. Reading along or watching a movie, I'd often go off on a tangent. With the NCL website (nedlib.org) at the ready on my smart phone, I'd instantly make a reservation for the next destination on my path of inquiry. Within days, my item would be waiting for me behind the circulation desk.
Early on, I rose from my rehab-bed to attend the live show "Red Hot and Cole" in Denver, which sparked my interest in Cole Porter. Voila!! So easy to order and then enjoy watching De-Lovely, the 2004 movie about Porter's life. Plus, I felt better about my little broken hip after I watched Cole Porter deal with having both legs crushed.
Then I went back to World War II, first with The Nightingale, a thick, satisfying novel telling of sisters in occupied France. Next came Lilac Girls, which I almost stopped reading once I realized one of the three main characters was a Nazi doctor. But I decided it was good for me to gain some insight from the portrayal of a character I didn't like and didn't agree with — so glad I stuck with it! After that I went to Stalinist Russia via the darkly comic City of Thieves, and back to Paris with All the Light We Cannot See, in which different threads of the story are spun from the lives of two characters, and not woven together until the very end.
Switching back to movies, I encountered The Great British Baking Show. This reality show starring aspiring amateur bakers from many different cultures of the UK was a totally unexpected addiction for me. The series has it all: laughter, tears, suspense, prickly characters, fallen cakes and triumphant towers of fanciful deliciousness, plus glimpses of the fabulous estate where it's filmed. Several times I stayed up til the wee hours of the morning watching just-one-more installment. I can't wait for Season Four so I can binge-watch that, too!
By this time, I was ready for The Full Monty again. I was unexpectedly between jobs, so the tale resonated with me: out-of-work British blokes have some fun and revitalize their depressed lives by putting on a stripper show. Career possibility? (LOL, just kidding) Another glimpse of unemployment — which morphed into purpose and engagement — was in the heart-tugging Me Before You (book and movie).
Then I started re-reading one of my favorite series, by Julia Spencer-Fleming [protagonists are a small-town police chief and a female Episcopal priest who's a former Army helicopter pilot]. I also dove in again to Christine Carbo's suspense trilogy, which takes place in and around Glacier National Park and has some crackerjack plotting plus terrific character development.
And of course, some items I checked out were never read or watched. I love having the luxury of that option at the library.
I'm back in action, working at the library again, surrounded by books, movies, magazines, and people who love them. Come in and let me tell you about what I'm reading and watching now!
---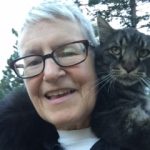 Cathy Grace is a Library Assistant at the Nederland Community Library.
The Nederland Community Library Foundation's Annual Book Sale (NCLFABS) will be Saturday, July 29th from 10 to 4 and Sunday, July 30th from 12 to 4.