Sights seen and wonders encountered
Read in Ned | October 5, 2017
By Tom Lambrecht
Long before it was accepted as a literary form, the travelogue was borne out of the universal desire for bragging rights: to let others know of our quests and the ground covered, the sights seen and the wonders encountered. Travel stories have ranged from detailed and droll progress reports that served to inform a bankrolling monarch or trading company of the status of a journey of exploration or conquest to the wry, sometimes humorous, often perilous accounts of individuals experiencing foreign cultures.
Contemporary proponents, like Bill Bryson and Paul Theroux, advanced a style that offered a well-paced blend of human interest, local color and a liberal dollop of the author's internal dialogue (and inevitable biases) that resulted in best-sellers. Two recent books continue that tradition. If you subscribe to the common notion that truck drivers aren't promising material as compelling authors, I predict Boulder writer Finn Murphy's debut Long Haul may change your mind. Rebelling against a strict upbringing and a liberal arts education, he signed on with a moving company that "suited (him) perfectly …because many young male neurotics find out early that hard labor is salve for an overactive mind."
The author takes us on an informative and philosophical voyage where we not only learn the intricacies and jargon of truck transportation but are also rewarded with insightful commentary on American society and business. Caricatures of fellow drivers and helpers dominate the book, and Murphy makes them appealing even when the subject is less so. He manages to get out of the first-person narrative that is de rigeur for the travelogue genre enough to keep the narrative fresh. Even during episodes of human drama including his brief anecdote of a tryst with the strong, but long-repressed wife of a client who is forcing her to move with him, his writing displays an unexpected sensitivity and lack of cliches.
Another new title, Nomadland, elevates the travelogue to the level of investigative reporting. Journalist Jessica Bruder follows the self-proclaimed "houseless," many of them victims of the 2008 financial crisis, in their travels and employment as seasonal and on-demand laborers or "workampers." Working variously as stadium vendors, campground hosts and as part of Amazon's CamperForce in large warehouses, they face the challenges posed by advancing age (most are seniors), questionable labor practices and living on a shoestring with no fixed abode. The author eventually immerses herself in the culture, putting on 15,000 road miles in an aging nineteen-foot GMC van to better understand the lifestyle and its rigors from the perspective of a participant.
Touching on the early history of itinerant labor from the time of the Great Depression and the development of mobile homes, Bruder writes of her subject's hardships and their attempts to create communities while paradoxically living a nomadic lifestyle. The book begins on an upbeat note, but concludes with the haunting question: " in the widening gap between credits and debits, what parts of this life are you willing to give up, so that you can keep on living?" And, Bruder wonders, what will the implications of the increasing "houseless" population be for our society? (And on a local level, how will it impact Western public lands?)
Both books present a nuanced view of the shortcomings of the American Dream but also tell tales of personal resilience with humor and grace. Both feature the quirkiness and detail that keep a good travel story from descending into tedium. Both are highly recommended.
---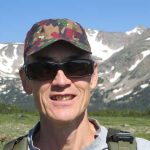 Tom Lambrecht is a Library Assistant at the Nederland Community Library.