Read in Ned: Lunch boxes and #Library cards
Your back-to-school homework? Keep up with the kids! Keep up with life!
By Elektra Greer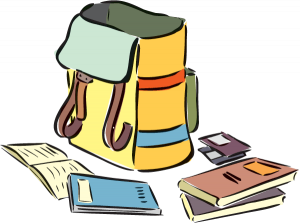 Yellow school buses, college dorm drop-offs, circle time rugs rolled out and ready. The back-to-school bustle has arrived and if you're anything like me, somewhere between the bitter and sweet of new beginnings is a heaping teaspoon of wistfulness. Life, don't leave me behind! 
So, in the spirit of new backpacks and sharpened pencils, it's time for a field trip to the library. (If you haven't met your Library Director yet, spoiler alert: I'm more Ms. Frizzle than Marvel Superhero!). Pack your library cards, and your sense of wonder, and come visit us.
Just as a library should never be defined by its square footage, neither should your mind, and we truly have something for everyone. Whether you're about quiet scholarship or experiential learning, one of the core values of public librarianship is to protect and encourage intellectual freedom and lifelong educational opportunities. We take that notion seriously at NCL and not only strive to provide materials with  diverse viewpoints, but we  invest in our connections to the broader world of public librarianship, bringing fresh expertise to our community. These past several months, we've been working closely with the Boulder Public Library's Marie Rogers Oral History Program, and we were even lucky enough to host the Colorado State Librarian Nicolle Davies. She loved visiting the Carousel and our mountain alpacas!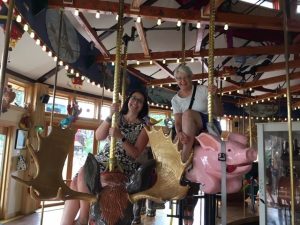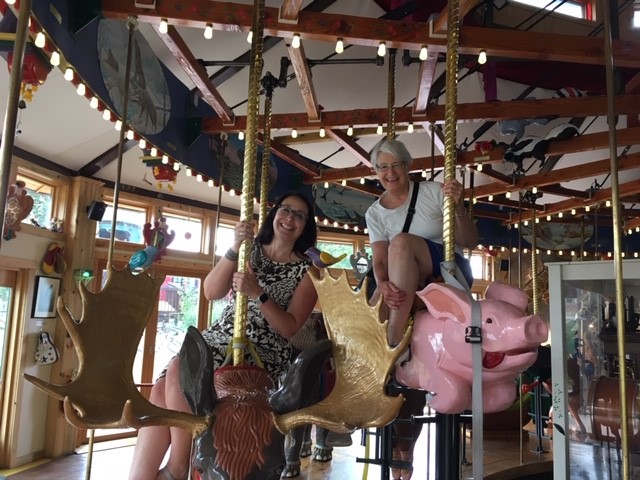 Interlibrary loans and downloadable books, movies, and music might be the things that first come to mind when you think of shared resources, but there is almost no limit to what your library can connect you to. Free mining tours? Deep space viewing with telescopes? Denver Museum of Nature and Science learning kits? A Booklovers trip to Cuba???? We have all this and more.
With all the exciting ideas and "stuff" that libraries share, it's easy to overlook one of the most invaluable resources of public libraries: the human resource. Not just the librarian who can't stop researching your question even after you've left the building; or the librarian who anticipates your next best read, three years before it gets published (Cathy!!!); or the librarian who helps connect you to your online account every afternoon and guards your password with his life; it's more than that. It's the resource of shared humanity (small libraries are ideal for eavesdropping on life-changing conversations) and the resource of connecting you to the people who created the stuff and ideas you're checking out. Authors, filmmakers, content creators, thought leaders, disruptors, entrepreneurs……whatever the trending word of the day, libraries are incubators for great ideas, and the minds behind those ideas. We even know the guy who runs that crazy awesome Nederland 1923 Steam shovel, one block from our library.
So, your back-to-school homework? Keep up with the kids! Keep up with life! Learn something new! Explore new worlds. Or new world views. Read a book, or check out a magazine that shakes you up a little. You don't need to finish it, but if you can keep an open mind, you've earned a gold star. Time travel to the past (our Colorado History Collection is amazing!) or to the future (we have some great scientists speaking at our library this Fall), or just play stump the librarian. We've had people bring us rocks to identify, rescued birds to learn to feed, AP physics homework to complete, Hindi texts to translate, and, more serious questions, around health care, food insecurity, and college education.  (And we pick up the phone when you call!) Also, were you aware that through some public libraries you can complete your high school education and several college courses for free? No cafeteria lunch lines or student loan hangovers.
Here's your course catalog for some of the most exciting shared library resources (human and otherwise) available to you this Fall at NCL: our oral history program hosted on our website; home delivery of library materials, in partnership with Nederland Area Seniors; Hub Ned Biz Book Club (they're partnering with Nederland Downtown Development Authority and the library ); the launch of NedX (great opportunity to learn from content creators); Read with Me (Reading with Dogs) program; Experience Pass Hockey tickets (need we say more?); new streaming video platform (we'll be previewing Kanopy this month, ask us more!), great local author visits, and a Fortune Telling Librarian, just in time for Halloween fun.
Thence, tomorrow, when the kids' homework notebooks come out after dinner, and you're choosing between dishes, Mo Willems, or AP Calculus, pull out your library card and your very own scented erasable gel pen (they have it easy, don't they?) and start taking notes…..what will you be learning about this year?
---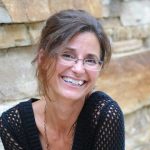 Elektra Greer is the Director of the Nederland Community Library.