Read in Ned: Introducing the Playaway Launchpad
By Michael Sivcovich

Storytime is a place where I both get to exercise some of the things I've learned as a teacher and get in my weekly dose of "hilarious things kids do and say." One of the things I've noticed lately, especially with the youngest group (0-2yrs on Wednesdays) is their fascination with the books themselves.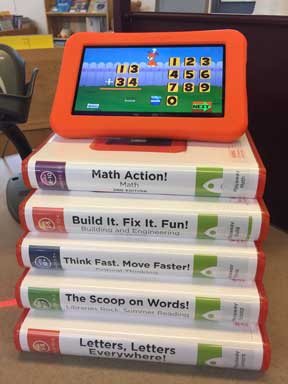 It should come as no surprise to parents that if you are holding or wearing something, your little one is going to test the structural integrity of that item. Whether it is curtains, earrings, a stick or a book, children are constantly exploring and striving to understand the environment around them. And lately, our curious little rugrats have been overly interested in the physical book as opposed to the story or pictures. Certainly, the pictures attract them, but they focus on the feel of the pages, the smell of a freshly bound book, sometimes the chewiness of the corners. While we certainly love that books at NCL are well loved and taken care of, there is some inherent benefit in allowing children to experience the world as they see fit.
These little tablets offer pre-loaded, educational activities to our young friends who are learning their letters, numbers, working on their engineering skills, or just want to work on some puzzles. The tablets are suitable for kids from 3-5 years all the way to 10 and up, depending on the applications. Our five devices include Letters, Letters Everywhere! and Build It. Fix It. Fun! (both for 3-5 years of age), The Scoop on Words! (5-7 years); Math Action! (8-10 years) and Think Fast. Move Faster! (10 years +)

Experiencing the world, however, should certainly have some limitations. We don't want our children eating books or destroying materials. One of the big pluses of board books is that they can take a lickin' and keep on tickin'. And our newest handheld devices for kids should boast similar durability (though we do discourage using them as teething aids). We are excited to introduce Playaway Launchpad tablets for checkout in the month of February.

For more information contact us at the library.

Michael Sivcovich is the Youth Services Coordinator at the Nederland Community Library.

---
"Dewey" belong together? Come find love between the covers with our February 14 Love your Library celebration. We'll have sweet treats all day and you can check out a blind date with a book!
---
"Love is more than a 7-Word score" Celebrate all things SCRABBLE with our first Scrabble Smackdown in partnership with Very Nice Brewery 6-7:30PM February 13th ; please register for this event on the library's website so we can be sure to have enough Scrabble Boards for everyone. There will be prizes!