Read in Ned: Good Reading Comes in Small Packages
Check out these duodecimo titles. Hint: they're welterweights

Read in Ned | August 4, 2017
By Tom Lambrecht
Up until the early 19th century, books were printed on hand presses. The process would start with a sheet of paper measuring nineteen by twenty-four inches which served as the basis for all of the different sizes of books, ranging from folio, the entire sheet folded in half yielding four generous pages) all the way down to sexagesimo-quarto or 64mo, which yielded pages only two by three inches.
Printing methods have changed drastically over time, yielding cheaper (and more cheaply-made) volumes with the significant upside being that more people can afford to read (though sadly, many do not avail themselves of that opportunity). But back to book size: Duodecimo (or 12mo – roughly five by seven inches) occupies a special place in my heart. The size can be easily clasped with the thumb inside of the spine holding the book open for one-handed reading, and a volume will fit easily in a coat pocket. The pages whiz by much faster than with a larger volume, which gives the reader a sense of accomplishment. Finally, if you're reading on your back in bed, the small format is much less painful when you nod off and it whacks you in the face.
On the subject of bed, the first of our new (duodecimo) titles at Nederland Community Library that I like is Make Your Bed by William McRaven. Currently Chancellor of the University of Texas system, McRaven's distinguished military career included stints as a Navy Seal officer, four-star Admiral and counter-terrorism expert. He organized and supervised the special operations raid that led to the death of Osama bin Laden and, at the culmination of his military career, served as chief of the US Special Forces Operations Command.
The impetus for this small volume came from a commencement speech McRaven gave, derived from his experience in commanding and motivating his men. The author fleshes out the lessons of that speech (in the time-honored motivational book fashion) with anecdotes from his military service. The essay that bears the book's title emphasizes the importance of doing small things routinely and rigorously as you "search for something that can give you solace, that can motivate you to begin your day, that can be a sense of pride in an otherwise ugly world." Making Your Bed is a great example of a concise inspirational book that succeeds where larger tomes would bog down under their own weight.
South and West, the next small book, is Joan Didion's first new title in five years. In over five decades of writing, she has attracted attention, even notoriety for her pithy observations of American culture and a journalistic style which, like that of Tom Wolfe and Hunter S.Thompson, puts the narrator on equal footing with the story. Her latest is no exception. The book derives from notes she made in the 1970s for pieces that were never completed – one on the Gulf Coast, the other an assignment on the Patty Hearst trial in California for Rolling Stone. "Notes on the South," her Gulf Coast travelogue takes up the majority of this slim volume and is a frank and bleak narrative of a region wrestling with racial integration and poverty.
"California Notes" comprises only fourteen pages and focuses more on the author's life than on the Hearst trial that dominated national news in 1976. That said, each page of the chapter is dense and fascinating. Didion concludes "In the South they are convinced that they are capable of having bloodied their land with history. In the West, we lack this conviction." I found her dry prose, mixed with liberal splashes of her own cryptic life, to make a perfect martini of a short book.
Finally, there is the The Redemption of Galen Pike by British author Carys Davies. I'll be succinct – seventeen exquisite short stories in a hundred and fifty pages. Davies has a gift for the casually-dropped plot twist that will turn the reader's expectations topsy-turvy in a single sentence or paragraph.
Enjoy these welterweight volumes that pack a punch well above their weight class.
---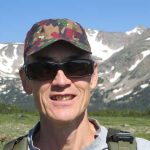 Tom Lambrecht is a Library Assistant at the Nederland Community Library.