Read in Ned: Digital Housecleaning

Cleaning and organizing-
and reacquainting yourself with forgotten digital memories
by Tom Lambrecht
Hi, faithful reader — long time, no write and as far as book reviews, scarcely any time for idleness like reading 🙂 Rather, as the days shorten and grow colder, the Nederland Community Library staff and management are engrossed in battening down the hatches. In addition to the mundane things like ensuring snow gets removed, one of the tasks underway is one we loathe … tidying and backing up the staff computers.
If your desktop, like ours, is littered with defunct program icons, ancient files and other flotsam, it's an indication of even more digital garbage tucked away in your file system. This clutter can slow your computer down and the disorder makes it maddening to find the document, file or image you're looking for. An additional challenge with our circulation desk computers is that we have multiple staff and volunteers using them and they need to be organized so as to be usable by all. In case your own computer needs a makeover, I'm going to share our methods (and yes, cleaning up your personal computer will probably be far simpler than ours).
If you've ever read David Allen's groundbreaking book on office organization, Getting Things Done, you'll know that he has you start out by dumping the unfiled contents of your inboxes, scribbled notes, mail, to-do lists, etc onto a big pile that you sort through. Talk about pain (I did it when I was an early Allen disciple). For purging your computer, I recommend the equivalent of that first step — still arduous, but far less messy.
The "Downloads" and "Documents" folders on Windows PCs are the default catchall for everything and so we dump the contents of those into one folder (let's call it "Sweep") on the Desktop for sorting. Each staff person looks over the contents and pulls out the files that they created or exclusively use and wish to keep and adds them to their personal folders, which we create on the desktop where they are visible and accessible.
Every individual user determines how they want their files organized. The prevailing wisdom dictates a folder hierarchy — folders within folders, just like in a filing cabinet. This is the hardest part of the process, but you can always change your organizing system and add folders or rename them. When picking through the mess in the "Sweep" folders, you can right-click in the folder (Windows PC) and use the "Sort by" option to order the files by type or date. Then drag the files to the new folders you've created.
Our organization has a large number of files that are shared by multiple users and they get their own folder (and subfolders), "Circ Desk Shared." Once everyone has picked the carcass clean, there are still multitudes of files left in the "Sweep" folder which are unceremoniously dumped in the Recycle Bin and then permanently deleted. At that point, it's a good idea to run a clean up tool like CCleaner to remove any browser caches, temporary files and other detritus and then defragment your computer's hard drive. And why not a full malware scan while you're at it? At each step, I'll bet you'll be surprised at how much digital lint has accumulated on your computer.
After you've put all that time into cleaning and organizing and reacquainting yourself with forgotten digital memories, you might want to think about what happens if you were to lose them due to theft, disaster, or computer failure. Now is the perfect time to backup your files. You can use external physical storage (hard drive, memory card) or back up to the "cloud" (a secure server) or both. For critical files, you want both. Both types of storage have never been cheaper and will save you from grief should a computer hiccup result in the loss of important documents or irreplaceable family photos. If you have more questions about your computer or handheld device, make an appointment with us for a "Tech Tuesday" session.
Once you've finished, you've earned a rest. Pull up a chair next to the cozy fire … oh wait, still need to cut more wood.
---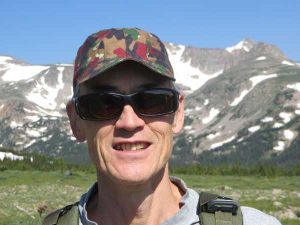 Tom Lambrecht is the Assistant Director of the Nederland Community Library. Next up: Windows 10 Woes and Shiny New Chromebooks