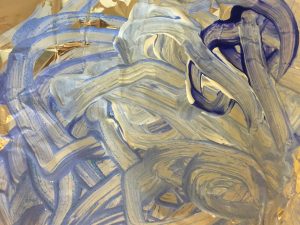 So, it's rainy. Seriously – we could use some sunshine. We didn't let that go to waste at story time Thursday and we certainly took our minds off it Wednesday. Here's what we're up to.
Wednesday at Movers and Shakers we read two books, 'Ten, Nine Eight,' and 'The Very Hungry Caterpillar.' Now, The Very Hungry Caterpillar is one of those books that we probably have all read and it could be a month long endeavor in a daily class setting, but for this day, we focused on the counting. Along with some help from felt board fruit, we practiced counting and more importantly, one-to-one correspondence. This is simply making sure we count one number for one object. Some of our friends were a tad young to count with us, but recognizing that we can account for objects using abstract concepts like symbols and sounds is a benefit to everyone. For our families who couldn't make it, I encourage you to take your time to count objects, steps, trees – anything with your child. Repetition and practice make perfect so take your time and make it fun!
Read, Play, and Grow practiced some similar counting on Thursday, but mostly, we talked about the rain and how it is everywhere around us right now. We read the books 'Raindrops Roll,' and Tap, Tap, Boom, Boom.' Raindrops Roll was a slight introduction into non-fiction for the group and we saw that books can have photographs and tell us information. Tap, Tap, Boom, Boom was a fun exploration of people's behaviors in the rain (mostly, we try to stay dry!) We had a large group Thursday and I LOVE to see old friends and new! For our art project, we painted some rainy conceptions that turned out really cool. So thankful for the community and families we have here in town!!
As usual, we will meet again Wednesday and Thursday next week with new books and new crafts. Keep in mind I am exploring new materials for free play so please if you have any suggestions, let me know!
Mike
(You can roll over the pictures to view more!)
[smartslider2 slider="100031″]