Cookbooks have come a long way
Read in Ned | January 25, 2018
By Tom Lambrecht
The Web has provided the hungry cook with the the ability to pull up a recipe for just about anything with a few keystrokes on a laptop or swipes of a cellphone — which raises the question, are cookbooks still relevant? I speculate the next generation of home cooks will only faintly recall a time when a collection of food-stained cookbooks and newspaper clippings were kitchen tools as important as knives or mixing bowls.
There is no definitive answer to that question, of course. But Internet aside, cookbooks have come a long way from an era when the majority of them were written by cooks who were formally-trained and since many of them weren't really creative writers, they were frequently little more than just dry collections of recipes. These days, cookbooks have more background about food origins, selecting ingredients and of course, the action-packed lives of their celebrity chef authors.
As in the music industry, indie publishing and social media are changing the writing business model and more self-taught cooks are wading into the fray. Two of these — Deb Perelman (her latest is Smitten Kitchen Every Day) and Tieghan Gerard (her debut is Half Baked Harvest Cookbook) have a lot in common besides their rising star status as cookbook authors. Both are self-taught cooks who made their reputation on the Web as prolific food bloggers and photographers. Both work out of their home kitchens — Gerard lives and cooks in a large restored farmhouse in Summit County, Colorado and Perelman operates out of her tiny home kitchen in East Village, NYC.
And their latest cookbooks feature recipes that are simple enough to not confound a kitchen novice, but elegant enough for company. A great example is Perelman's reworking of artichoke dip in the form of an Artichoke and Parmesan Galette. Or her vegetarian take on BBQ in the Dry-Rub Sweet Potato "Steaks" with Green Bean Slaw. Gerard offers recipes influenced by her family (who she still lives with and who are her recipe test crew) including Dad's One Pan Friday Night Pasta and a Steak Fajita and Sweet Potato Fry Salad.
Next up is Sweet, a collaboration between well-known chef and writer Yotam Ottolenghi and Helen Goh focusing on (you guessed it) desserts. Ottolenghi is particularly renowned for his intriguing juxtapositions of ingredients. His cookbooks are beautifully produced, the kind of lush coffee table tomes that you feel guilty about handling with floured hands. I'm slightly ambivalent about Ottolenghi's cookbooks because though his recipes are brilliant, many are quite involved and the exotic ingredients are difficult to source which puts one off of tackling them. Sweet has plenty of involved dessert creations, but also features some elegant, yet basic delights like the Chocolate, Banana and Pecan Cookies and the oh-so-British Lemon and Poppy Seed Cake which is co-author Goh's self-proclaimed "desert island" dessert.
The final title, Salt, Fat, Acid, Heat sounds quirky, but would certainly be a winner of an award for truth in book titles as chef and food columnist Samin Nosrat helps the reader understand and master those four key cooking variables. It is a unique cookbook/textbook that is like a light approachable version of Harold McGee's voluminous food science reference, On Food and Cooking. Nosrat's teaching is interspersed with lighter classic recipes (think Chez Panisse where Nosrat worked under the legendary Alice Waters) that reinforce the lessons which are informal in tone. Informative illustrations by Wendy MacNaughton like "Aromatic Flavor Bases of the World" and the foldout "World of Flavor" ingredients chart support the reader in not only "making a recipe," but elevating one's understanding of what lies behind the process.
---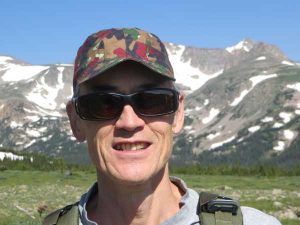 Tom Lambrecht is a Library Assistant at the Nederland Community Library.