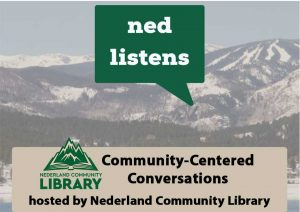 Community  •  Neighbors  •  Civil Conversation

ALL AT YOUR LIBRARY

__________________
NEXT EVENT
Thursday, April 15th
The Youth Envisions 2030
A discussion with young people in town about what THEY would like to see happen with their community.
We'll take a look at past plans and gather ideas as to where Nederland should go from here. Please register or submit a comment or topic at the bottom of this page.
Full Vision 2020 report and documents HERE
Vision 2020 Update HERE, Youth Survey starts on page 28!!
___________________________________
Previous Events
Thursday, Feb. 18, 7pm
Transportation Improvement Program (TIP) Project
Learn More about Nederland's TIP Project

Marijuana Hospitality
More about this issue can be seen in the BoT Agenda from 2/16
Notes from this meeting: Feb 18
Link to TIP application (begins on p. 98)
Meeting 1, 2_18_21_ TIP and marijuana hospitality

Join the Conversation
Get a link to the Covid-friendly Zoom conversation by filling out and submitting this form: