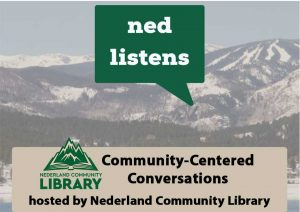 Community  •  Neighbors  •  Civil Conversation

ALL AT YOUR LIBRARY

__________________
NEXT EVENT – Register at the bottom of this page!
Thursday, June 10th, 7pm

*CANCELED*
Healthcare in the Peak to Peak Region
We will be hosting a discussion about healthcare options both in the P2P region and in general. Services, facilities, questions regarding enrollment, programs, vaccines and more. Nederland Library staff will be joined by Jessica Broadbent of Mental Health Partners, Katrina Harms of Peak to Peak Human Services, and others as we try to answer questions and concerns during these unprecedented times.
If we can't answer your questions, we will find the answers! Please  join us on June 10th at 7pm to ask and listen.
___________________________________
Previous Events
Thursday, Feb. 18, 7pm
Transportation Improvement Program (TIP) Project
Learn More about Nederland's TIP Project

Marijuana Hospitality
More about this issue can be seen in the BoT Agenda from 2/16
Notes from this meeting: Feb 18
Link to TIP application (begins on p. 98)
Meeting 1, 2_18_21_ TIP and marijuana hospitality

Join the Conversation
Get a link to the Covid-friendly Zoom conversation by filling out and submitting this form: