Hello! I'm your new Youth Services Coordinator
I'd like to introduce myself
by Mike Sivcovich
I wanted to take the opportunity to introduce myself as your Youth Services Coordinator at the Nederland Community Library and elaborate more on what we have planned for the children here in Nederland, as well as the surrounding area. I migrated here from St. Louis, MO and have discovered that many others have as well! My family and I have been in Nederland for about 3 years and have settled into the community comfortably. Both of my sons are at Nederland Elementary and we are all enjoying working with the amazing staff there and looking forward to the direction Laurel Reckert, our new principal, will be steering us.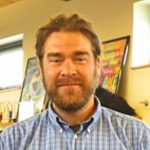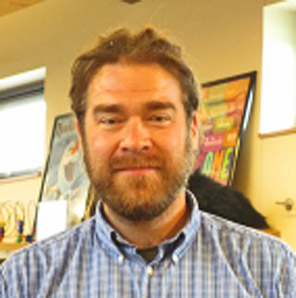 Personally, I studied elementary education in St. Louis and enjoyed a year teaching middle school science at Most Holy Trinity Academy. My experience there was an amazing exercise in reaching out to communities that were usually left to fate, solidifying my belief that families extend beyond the nuclear standard. After MHTA, I accepted a position at Mullanphy – Botanical Gardens Investigative Learning Center in the St. Louis Public School District. I enjoyed three years of teaching grades four and five and and discovered very effective ways to educate young minds. Students today are growing up not only in a digital age but also in an age of immense social change. I feel that St. Louis taught me a plethora of lessons in diversity and social justice, but when I moved to Nederland and began work as a co-teacher at Aspen Grove Community Preschool, those lessons were expanded upon and put into measurable action.
As it turns out, Aspen Grove partners with Boulder Journey School, a Reggio Emilia-inspired school that offers a graduate level teacher education program through The University of Colorado in Denver. This program allowed me to earn a master's in early literacy, while gaining powerful lessons in social justice and the rights of children by working with the wonderful families. Through my work at BJS and at Aspen Grove, I feel direction was given to my work, and it ended up looking like this:
Without question, children are very capable individuals. When we take the time to observe and understand what our children are doing and how they are building their understanding of the world around them, we can see that they have profound ideas and theories on nature and human interaction. When we give voice to their theories, and yes, I am including those children who are not able to talk yet, we give them the opportunity to become meaningful contributors to their environment. Have we considered what children need to empower themselves? Could it be as simple as kid-sized furniture or as complex as a voice in the democratic processes we experience from day to day? I believe that our children have an immense influence on our lives and, sometimes, we tend to just shrug things off as "kid's stuff." But it is my goal to allow our children to exercise their influence in a meaningful and appropriate setting and manner.
We can achieve this by listening to our students and affording them the value we would anyone else. We can provide opportunities for them to explore nature, materials, and content and to test their theories. We can guide them towards democratic and empathetic ideals that are based in compassion and love. We can honor their work, not as kid's stuff, but as meaningful representations of their understandings and dreams. And most importantly, we can partner with those around us to form a community based on the same ideals we wish to impart on our children. Does it seem lofty for little ones? It really isn't. Just by holding a valuable view of children, we raise our expectations of them and ourselves.
I strongly encourage  everyone to take advantage of the services we are offering, especially those that help our children learn and grow. I look forward to meeting everyone, and please feel free to contact me for any reason. My door is always open!
---
Mike Sivcovich is the Youth Services Coordinator at the Nederland Community Library.