Good stories come in a variety of media
DVDs account for a significant portion of circulated items
Read in Ned | December 7, 2017
By Jay Mann
One of my biggest surprises in library school at the University of Washington was that we didn't talk about books outside of classes much. Perhaps it was because we were exhausted after discussing them in class all day.
Our initial classes set up a conceptual framework – e.g. the "lifecycle of information," a work vs manifestations, and questions like, "what are libraries, really?" Cataloging explored how you categorize and organize a collection. Collection development looked at creating a diverse collection that reflected the needs and interests of a community. And I was fortunate to take a course on readers' advisory (individual book recommendations) from Nancy Pearl. Nancy (www.nancypearl.com) is a librarian who, among many other things, reviews books on NPR and just wrote her first book.
So what did we talk about? Typical gossip, of course, but we also spoke a lot about movies and television. I believe that a lot of Seattle's culture developed as a coping mechanism to its weather; think coffee, theater, its literary scene, indie movies. In February when you feel like you haven't seen the sun in ages, seeing a movie is a cheap alternative to flying to Hawaii. The theaters range from tiny independents to the commercial ones to large independents (Paul Allen's Cinerama seats nearly 600). Several of my classmates aspired to become visual media librarians. It is admittedly a niche profession found mainly in academic libraries; cataloging films can be challenging.
In public libraries across the country, DVDs account for a significant portion of circulated items. Occasionally I will hear some feedback that libraries should be about books. My response is that public libraries have a long history of providing both educational and entertainment resources. Clive Cussler and James Patterson are definitely in the latter category and are well-represented on our shelves. I believe that good stories come in a variety of media. Hopefully you know by now that we have hundreds of movies. But if you'd prefer to get lost in a TV show, we have over 80 TV series in DVD format.
We have the popular ones you would expect – Downton Abbey and Walking Dead, Game of Thrones and Doc Martin, Breaking Bad and Broadchurch. We also have a nonfiction collection of movies and TV shows – The Great British Baking Show is a popular one. I understand that as compared to most of our reality TV, the contestants are actually civil to one another.
Our movies and TV shows check out for a week. If you aren't able to complete a show in that amount of time, you can renew it for another week (provided no one has placed a hold on it). Speaking of placing holds, you can see our latest books and movies and place a hold on them by going to the front page of this website and scrolling down to our "carousel" of books.
And a couple of reminders
Just like books, we take DVD purchases suggestions. There is a good chance that we will purchase your suggestion. And in case there are some old family videotapes you want to preserve, we have a VHS to DVD converter available for checkout.
---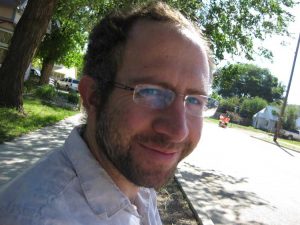 Jay Mann is the Director of the Nederland Community Library. Join us at the library on December 14, 4:30 – 5:30 for the appearance of magician, mentalist, and all around funny guy … Mark, the Magicman. He will be performing his family-friendly show for all ages. Be amazed, wowed and have a ton of fun with veteran of magic and mind games! Free to the community.