Movies offer strengths of their own
Read in Ned | February 1, 2018 
by Cathy Grace
As much as I love to read, I also enjoy watching TV and movie versions of books. Conventional wisdom has it that the book is always better than the movie; however, I beg to differ. While it is nearly always true that a book will have richer language and detail, deeper character development, and as Anne of Green Gables might say "more scope for the imagination," I maintain that movies offer strengths of their own. I see books and movies as two separate genres, and I generally look for different things in each.
One of my hot-button examples is One Shot, by Lee Child.This is one of the Jack Reacher series of thrillers, which I like very much. I think of Reacher as Mission Impossible embodied in one man: he has the experience, skills, intelligence, and ingenuity to solve any case. The books are tightly written, fast-paced and suspenseful; there's certainly violence, but it's entirely in service of the story. My friend John is also a fan, and when we heard who was to star in the 2012 movie version (renamed Never Look Back for the screen), we were both dumbfounded and disgusted: Tom Cruise???? Give me a break!! Reacher is 6'5", 250 pounds, mysterious and taciturn – pretty much the physical opposite of the short, voluble Hollywood star. John vows never to watch the movie, but I crumbled and checked out the DVD. To my surprise, I enjoyed it! It skims over character development and doesn't address entire plot lines, but I found it well worth watching for itself. Cinema brought elements of pacing and imagery that differed from the book, but which worked well on the screen.
A huge (literally) entry in the book/movie canon is the Outlander series by Diana Gabaldon. Gabaldon's original intention was not to write an eight-volume series of long, juicy novels (which are now accompanied by numerous companion novels, novellas, and reference books). A university professor with a PhD in behavioral ecology and years of scientific writing experience, Gabaldon decided to try her hand at fiction as an experiment. Her attempt received such enthusiastic praise that she published Outlander in 1990 and then just kept on writing sequels.
The books are meticulously researched and chock full of authentic details. As Outlander opens in 1946, Claire is a nurse who's just returned from duty in WWII. She and her husband Frank are vacationing in Scotland and getting reacquainted after years — and a war — apart. Claire is unexpectedly catapulted back in time to 1743, where she is violently accosted by a doppelganger of Frank, who, in this world is a sadistic British soldier. Rescued by a ragtag band of Scottish rebels, she uses her medical expertise to tend to a virile specimen named Jamie, and we're off and running with Jamie and Claire. The series takes us from then to 1980 to 1778, from Scotland to England to France, Jamaica, and America, giving us an immersive historical fiction experience of that vast sweep of history.
The author's meticulous research transfers to the TV version, as she is an active consultant and co-producer on the series. As one would expect, an hour of TV episode contains but a fraction of the detail that the book does, but the story is abridged so skillfully that the flavor of the book shines through. Filmed on location, the screen series is a feast for the senses, with magnificent settings and costumes, authentic language, music and food. It's a very successful translation of this rich, multi-layered story from page to screen.The first two seasons are available on DVD at the Nederland Library; the third is showing on Starz currently.
What are some of your favorite book/movie pairings? I'd love to hear them; please come tell me at the library!
---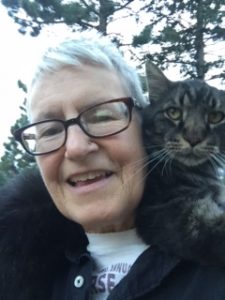 Cathy Grace is a Library Assistant at the Nederland Community Library.