Explore The Switzerland Trail with Michael O'Neill
Michael O'Neill will return to the NCL Community Room on Sunday, July 14, at 3 PM
to update us on his explorations.
Michael has lived and ranged over the West and now lives in Larimer County, but his interest in the Switzerland Trail hasn't diminished and he still makes frequent trips up to our backyard to continue his research and ramblings. He'll present photos and maps and talk about hiking the accessible portions of the Trail and historical sights one might see.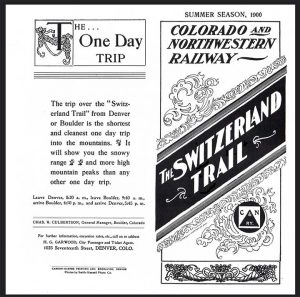 The GSL&P was one of many ambitious rail lines conceived by planners who thought they'd overcome the steep mountain grades and brutal weather of the Colorado mountains. These factors took a heavy toll on the equipment and tracks, driving up operating expenses to unsustainable levels and resulting in abandoned lines and changes of ownership. By 1883, the GSL&P  originated in Boulder, came up Boulder Canyon and then snaked its way up Four Mile Canyon through the (still) small mountain communities around Salina. Over time, the main line and feeder lines from the mines were expanded as far as Ward, but flooding that washed out the tracks and defunct mines resulted in name changes as the line changed hands. It finished its existence as the Denver Boulder and Western and was defunct by 1919.