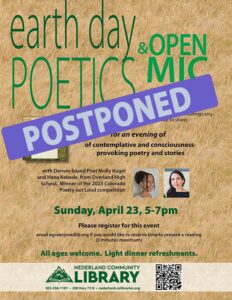 SUNDAY, APRIL 23, 5-7 pm
with Denver-based Poet Molly Kugel
and Colorado Poetry Out Loud winner Hana Kebede

Celebrate the wonders of nature with an evening of contemplative and consciousness-provoking poetry and stories. Poet Molly Kugel and Hana Kebede from Overland High School, winner of the 2023 Colorado Poetry Out Loud competition, will open the event, followed by time for others to share poems or stories centered on the natural world (original works or favourite readings you would like to share).
Please register for this event
email Elektra if you would like to reserve time to present a reading
(5 minutes maximum)
All ages welcome. Light dinner refreshments.
POSTPONED