Design the Next Nederland Library Card
Open to Nederland Community Library cardholders ages K-12
How to Enter Your Artwork:
Use the entry form below or drop-off paper copies in person at Nederland Community Library with Your Name, Email, Phone Number, Address, Library Card Number, Age Category (either Grade K-5 or Grade 6-12), and Signature of parent or guardian. Do not include your name on the artwork.
Submit your artwork in portrait or landscape orientation up to 7″ x 11″. Please use proportional dimensions for the best quality. Artwork will be trimmed approximately 1/8″ on each side for printing purposes, and reduced to actual card size. You may pick up a design sheet template from the library or download it here. Artwork can include computer-generated or digital photographic submissions or paper submissions using colored pencil, pen, paint, markers, etc.
The Library will hold two free Art Workshops
during September for participants to learn tips and tricks
from professionals and create some Art to submit.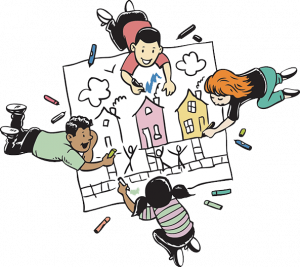 The technical jargon:
All artwork must be original, previously unpublished, and free of copyright restrictions.
Upon submission, entrants grant the Nederland Community Library all rights to the artwork and consents that all artwork may be displayed and/or reproduced without limitation and without compensation. Entries will be reviewed by a committee.
Digital entries must be in jpeg or png format and should be submitted with a resolution of 300 dpi or higher for printing purposes. (Digital version final card size 3.375" x 2.125")
If you want your digital submission to be displayed in the exhibit, please bring in a printed, matted, wired/stringed copy of the piece.
Artwork will be displayed in a special exhibit. In order to do so, pieces will need to be "matted." This just means attach to a piece of card with wire or string on the back for hanging. (String hot-glued to the back will work fine! You are welcome to come in to the library and use our glue-gun for this).
Artwork will appear on library cards no later than January 2023. Library staff may modify winning artwork to meet production requirements. Artist's name may appear on the back of printed cards. Winners' names may appear in news media, social media, on the library's website and other communications.
Entries must be accompanied by a signed entry form, signed by a parent or guardian.
Limit one (1) entry per person.
ENTRIES MUST BE SUBMITTED BY SEPTEMBER 30, 2022
One winner from each age group (K-5 and 6-12) will have their design turned into our new library card!
One 2nd place winner from each age group will  have their art made into a library jigsaw puzzle!
Runners-up will be featured on our website and social media. All entries will be exhibited at a special Library Exhibition from October through December.
All participants receive a thank-you surprise.
For questions, email us.
__________________________________
NCL Library Card Contest Entry Form
ENTRIES MUST BE SUBMITTED BY SEPTEMBER 30, 2022