Cookbook Club: Charcuterie with Wanda Langenback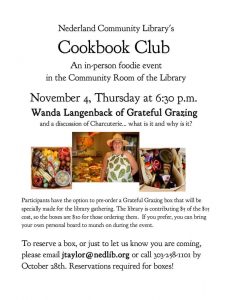 Thursday, Nov. 4, 6:30 p.m., Library Community Room
In-Person foodie event
with Wanda Langenback of Grateful Grazing
Charcuterie – what is it and why is it?
Participants have the option of pre-ordering a specially made Grateful Grazing box. The library is contributing $5 of the $15 cost, so boxes are $10. If you prefer, you can bring your own personal board to munch on during the event. Reservations are required for boxes.
To reserve a box and/or to let us know you are coming email Janette or call 303-258-1101.
DEADLINE: Thursday, Oct. 28, for registrations