Chile: Land of Big Skies, Big Scopes and Big Data
Wednesday, January 8, 6:30-8PM 
Registration Required.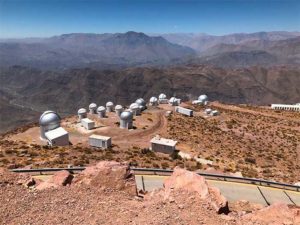 Chile's unique geography has made it one of the most attractive places in the world to build observatories. By 2022, seventy-percent of all the optical and infrared collecting power in the world will be located in Chile.
Join us for an evening sure to expand your mind as we learn more about astronomy in Chile and how the ACEAP (Astronomy in Chile Educator Ambassadors Program)  program gives amateur astronomers, observatory and planetarium professionals, K-16 teachers, and informal astronomy educators an opportunity to visit U.S. funded facilities in Chile.
Presented by Carla Johns,  Marketing, Membership, & Communications Manager at Fiske Planetarium and the Outreach, Tour, & Public Relations Coordinator at Sommers-Bausch Observatory.