Book Talk: Douglas Adams' 70th Birthday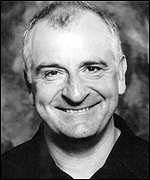 CANCELED due to lack of registrations.
Join the Nederland Community Library
for a Book Talk to celebrate the eve of
what would have been Douglas Adams' 70th Birthday.
Douglas Adams was the author of the celebrated Hitchhiker's Guide to the Galaxy series, as well as the Dirk Gently books and Last Chance to See, his non-fiction book about endangered species. He also wrote two books of Liffs. What is a Liff? Those participating in this event will have a chance to find out and write a few Liffs of their own.
Thursday, March 10, 6-8 p.m.
Combination of in-person and Zoom.
For Zoom, you will receive information to join the event one hour before it starts.