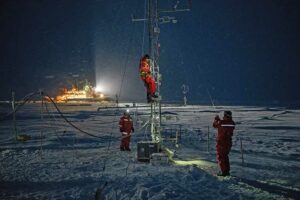 Experience the MOSAiC Arctic expedition with co-leader and Nederland local Matt Shupe
Learn about MOSAiC, a year-long expedition that froze an icebreaker ship into the Arctic sea ice to study the ice, the atmosphere, the ocean, and the ecosystem.
MOSAiC, was the greatest Arctic scientific expedition of all time!  An international consortium of scientists intentionally froze a ship into the Arctic sea ice for a year to study the rapidly changing Arctic atmosphere, ocean, sea ice, and ecosystem. Come take a virtual voyage through the central Arctic, learn about the science of MOSAiC, experience the cold and dark of winter, and the brilliant sun of summer.  You might catch a peak at a polar bear, see some large cracks in the sea ice, and experience the life of a scientist in extreme Arctic conditions.  You may even learn a bit about how and why the Arctic is changing so rapidly.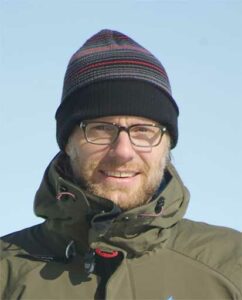 Dr. Matthew Shupe is a senior research scientist at the University of Colorado and NOAA in Boulder. For 25 years, he has been studying the Arctic system, including adventures to Alaska, northern Canada, the Greenland Ice Sheet, and all across the Arctic Ocean. He specializes in atmospheric processes related to clouds and radiation, and how they impact the energy budget of icy Arctic surfaces. During 2019 – 2020 he was co-coordinator of the international Multidisciplinary drifting Observatory for the Study of Arctic Climate (MOSAiC) expedition.
Wednesday, March 1, 6:30 – 8 pm
Watch a video of the expedition