another darn quARanTine exhibit
another darn qu
AR

an

T

ine exhibit
by Virginia Unseld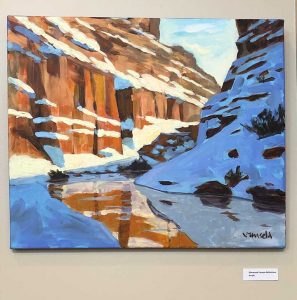 When the pandemic hit, I hunkered down in my home studio working on paintings in pastels and oils. During the winter I rented a larger studio to work on larger canvases. I purchased a ton of acrylic paints, which I had not used for decades, and began to re-teach myself how to paint with acrylics. From March 1, 2020 to March 1, 2021 I completed over 50 paintings in various media. This is a sampling of that work, all in acrylic paint on canvas.
The subjects are places I know well and love, like Lake Isabel and the Indian Peaks Wilderness . . . and places that were love at first sight like Alaska and Croatia.  But the real subject of most of my work is dramatic light and how it adds interest to the landscape.
*****
Please join me on Thursday August 12 from 6:00 to 8:00 for a reception and refreshments and a painting demonstration with acrylics at 7:00.  I would love to discuss my paintings and answer any questions you might have.